Package 1
Hommus
Salad
Mixed Vegetables
Roast Potatoes
Rice topped with chunks of Beef garnished with fresh nuts and parsley
Oven Baked Chicken

Package 2
Hommus
Choice Of: Salad or Fattoush
Choice Of: Roasted or mashed potatoes
Sautéed Vegetables
Rice topped with Chunks of Beef garnished with fresh nuts and parsley
Choice Of: Oven Baked Chicken or Boneless Chicken with Creamy Artichoke or Mushroom Sauce

Package 3
Hommus
Choice Of: Salad or Fattoush
Italian Pasta with Marinara Sauce
Choice Of: Roasted or mashed Potatoes
Sautéed Vegetables
Fish with Creamy Lemon Sauce
Rice topped with Chunks of Beef garnished with fresh nuts and parsley
Boneless Chicken with Creamy Artichoke or Mushroom Sauce
Package 4
Appetizers:
Fresh Vegetables and Dip
Tabboulli
Hommus
Baba Ghannouch
Dinner Includes:
Choice Of: Roasted or Mashed Potatoes
Sautéed Vegetables
Yellow Rice topped with Fresh Nuts and Green Peas
Roast Beef with Demi-glace Sauce
Boneless Chicken with Creamy Artichoke or Mushroom Sauce
Fish with Creamy Lemon Sauce
Italian Pasta with Shrimp in Alfredo Sauce
Catering
Specializing in:
Corporate events
Home Delivery
Hospital Delivery
School delivery and more

Services Available:
Continental breakfest
Boxed or buffet style lunch
Buffet style dinner

For your convenince, you can customize your own package. Please speak with a Byblos representative for details.
Byblos Banquets is a licensed catering service.

"Let Byblos be the taste of your next event"
Entrees
Add $3 per person for the following:
Oven Baked Chicken
Ouzi, rice with fine meat topped with chunks of beef and nuts, raisins and almonds
Roast Kafta with white rice or tomato sauce
Boneless Chickenwith Creamy Artichoke or Mushroom Sauce
Fettuccini alfredo sauce

Add $5 per person for the following:
Roast Beef with demi-glace sauce and mushrooms
Fettuccini alfredo sauce and shrimp
Sayadiya, white rice with chunks of fish with nuts and almonds
Add $7 per person for the following:
Oven Baked Salmon with dill, lemon sauce and artichoke
Filet Mignon with demigalze sauce and mushrooms
Sautéed Jumbo Shrimp
Baked Cod Fish with lemon herbs
Lamb Chops Grilled
Complete Package
Wait Staff
Table Cloths (White, Ivory, Black, Red)
Napkins (Any color)
Table Setups
Fresh Pita Bread
Beverage Bar, Coffee, Tea
Coat Check Serv
Side Dishes
Add $2 per person for the following:
Meat Pies or Cheese Pies
Spinach Pies
Baba Gannouch (Eggplant Dip)
Oven Roasted Potatoes
Golden Mash Potatoes with gravy
Hot Potatoes with garlic, cilantro, spices
Mosttaccolli with tomato sauce
Vegetable Tray with dip
Cheese & Crackers
Fattoush (Salad) with feta cheese


Add $3 per person for the following:
Vegetarian Graps Leaves
Meat Grape Leaves
Tabbouli
Fried Kibbee
Cocktail Shrimp

Soup
Add $2 per person for the following:
Creamy lentil
Whole lentil
Vegetables
Chicken vegetables
Fruit & Sweets

With packages:
Add $1.50 for platted sweets
Add $3 for platted sweets & fruits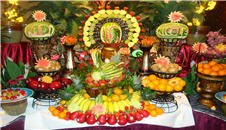 Guidelines:
Mon.Tue. Wed.Thurs: 150 Guests and up
Friday.Satur. Sunday: 300 Guests and up